ReplicaGunsSwords.com
131 Greenbriar Dr.
West Monroe La.
71291
Fax: 318-397-7828
Toll Free Phone:
866 809-GUNS (4867)
8 AM to 5 PM Central
Monday Through Friday

Email Us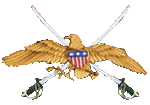 Replica Guns Swords :: Replica Swords, Cutlasses, Daggers and Knives :: Replica Civil War Swords

Civil war swords, replica civil war swords and cutlasses, reenactment civil war swords, swords for display, Theatrical Civil war Swords, civil war collectible swords, stage and movie prop civil war swords, battle ready civil war sword, carbon steel blade sword civil war, US 1860 cavalry saber, confederate officer's sword, field officer's sword, artillery sword, 1860 USN Naval cutlass, US foot officer's sword, CSA officer's sword with scabbard, trooper's sword, civil war bowie knife, civil war D bowie knife, Confederate D guard bowie knife, civil war sword belt, sword belt buckle, civil war sword hanger, CSA officer's sword with scabbard.
All swords have carbon steel blades and can be sharpened. (except 07-690, 07-205 and 06-801)
SCROLL DOWN TO VIEW OUR SELECTION.